This December, we had the pleasure of designing a small space for Rooms with a View,  a charity event, that was hosted at the Telfair Museum.
The theme of our room this year is quite literally "out of the box".  It's grounded in the concept that design styles don't necessarily have to fit within a labeled box.
In the past couple of years, I've had the pleasure of working with Lukejohn from SKB on not only kitchens and baths but also on many interesting built in spaces.  Together we've created breakfast nooks, mini libraries and closets with built in daybeds and shelving.  And many of these built spaces become the sweet spots of the homes we work on.  There's something comforting and inviting about a custom built space.
When putting together this room, we sketched ideas on small pieces of graph paper, pulled fabrics and inspirations that felt both authentic to the mixed styles of work we do as well as new and exciting.
Our room is flexible. It could be a breakfast nook, or an outdoor porch area, it could be a sitting area in a front living room or even your new favorite restaurant.  We wanted to keep an "open box idea" to how the viewer would imagine experiencing it in his or her own personal way.
The ship lap walls are a nod to coastal design of this region while also creating a linear graphic pattern that's echoed throughout the space.  We used a minimalist table and chairs that have contrasting rounded shapes to the otherwise linear room.  Our pergola ceiling is a nod to modern design with angled lines that work in relationship to the background of the museum. We selected fresh graphic fabrics in a contemporary palette of white, black and yellow for some color and pattern.  Our art choices both inspired and shaped the room. There is a deliberate irony that the images both of an iconic Prada pop up store in Marfa, TX as well as photographs of palms could be views out the window, or a perfect backdrop setting for the room. The Gray Malin photograph was inspirational because of the artists attempt to think outside the box. He describes the series he shot in his own words as…. "The town of Marfa, TX is famous for many reasons but notably for the 'New York chic' meets 'cowboy cool' art scene that has been written up all over the world.  In 2005, the artists Elmgreen and Dragset came to Marfa to find the perfect location for their hyper-commercialism vision of a free standing Prada store in the middle of nowhere.  After the building "artscape" with minimalist materials, the door was sealed shut.  Gray says, "Through the purpose of the store can be argued, I chose to believe that it is an attempt to challenge the viewer to think outside the box and should incite all of us to continue to question what exactly art is all about."
As professional designers, we get used to having a client to work for – so doing a room for this exhibit was both challenging and refreshing.  It was a great way for us as a team to come together to show our point of view and aesthetic while creating something new, "outside the box".
Here are some progress shots of the entire experience. We hope you enjoy!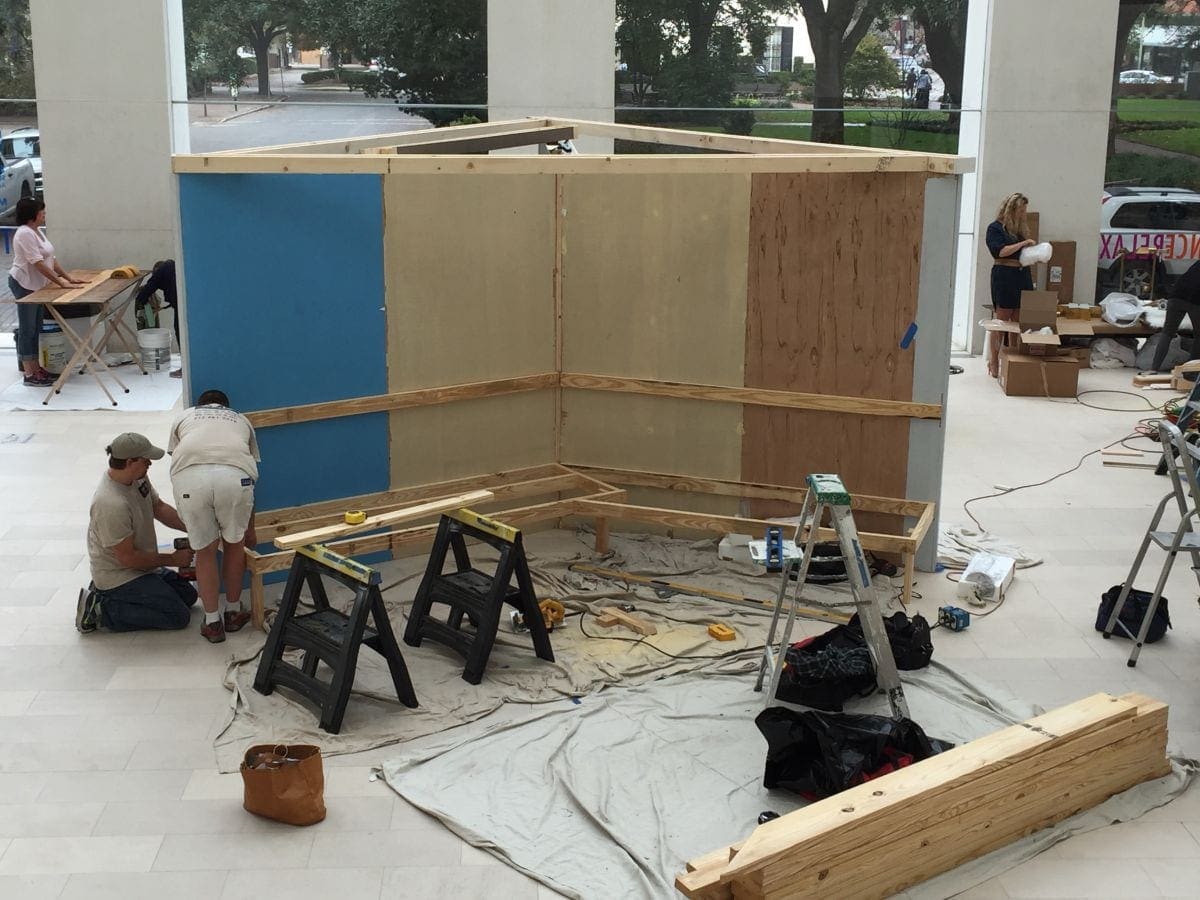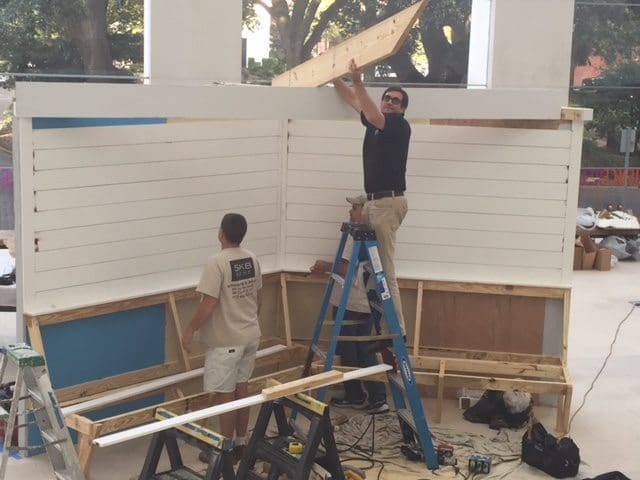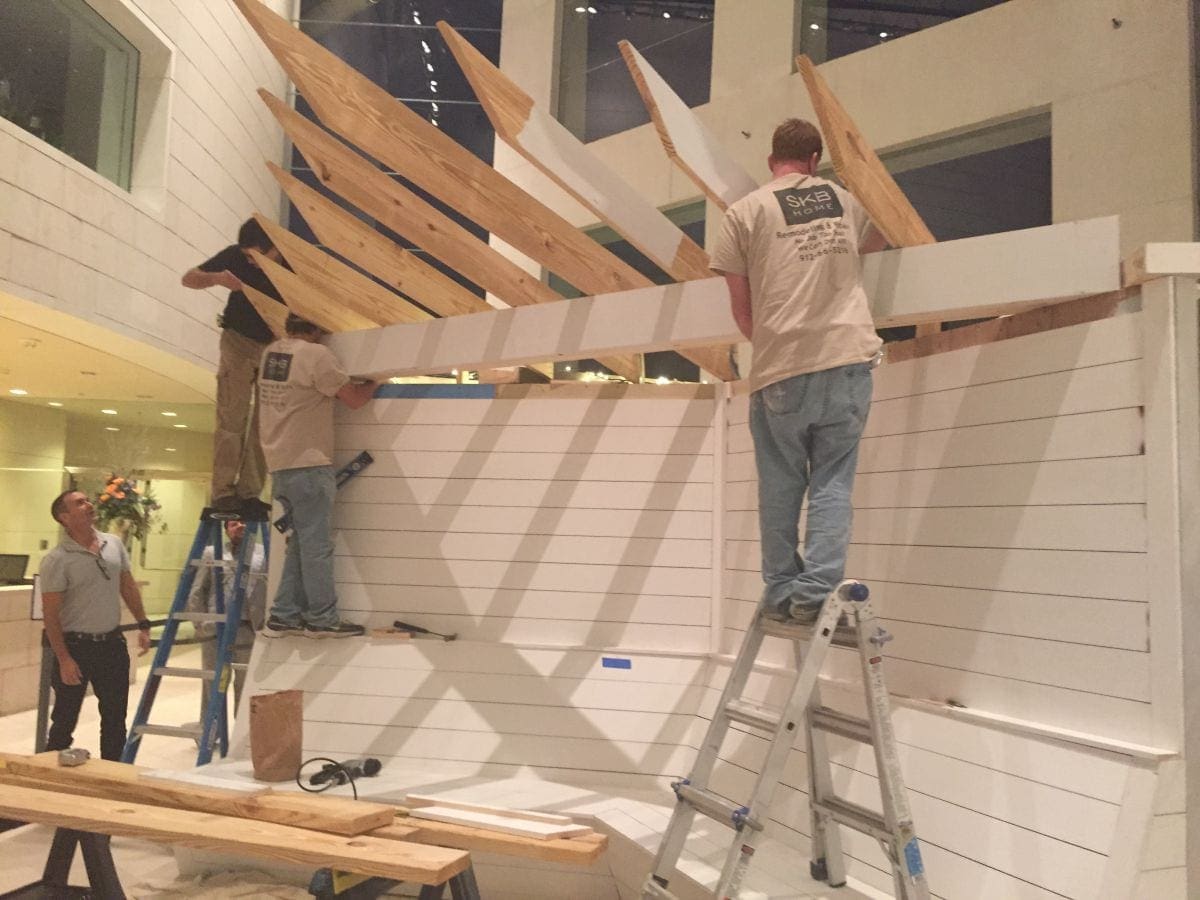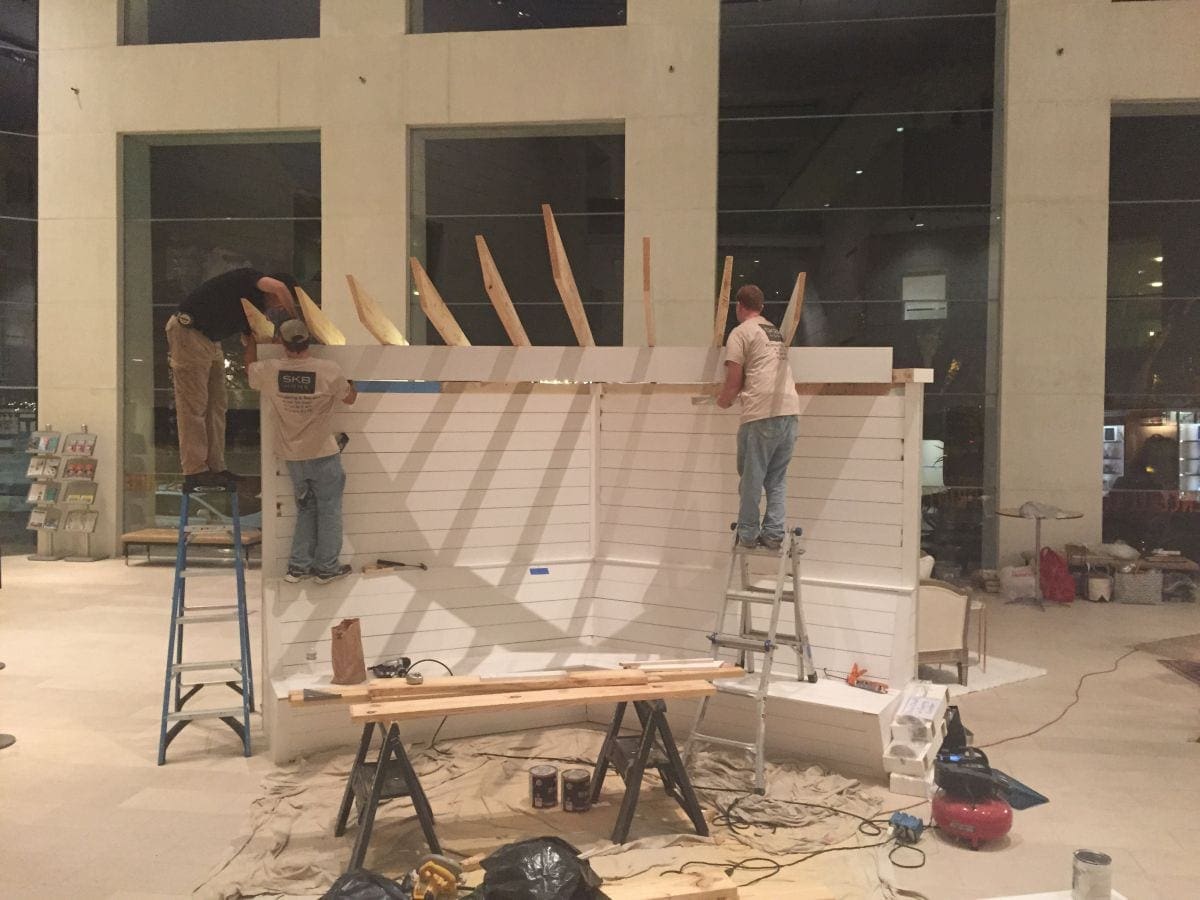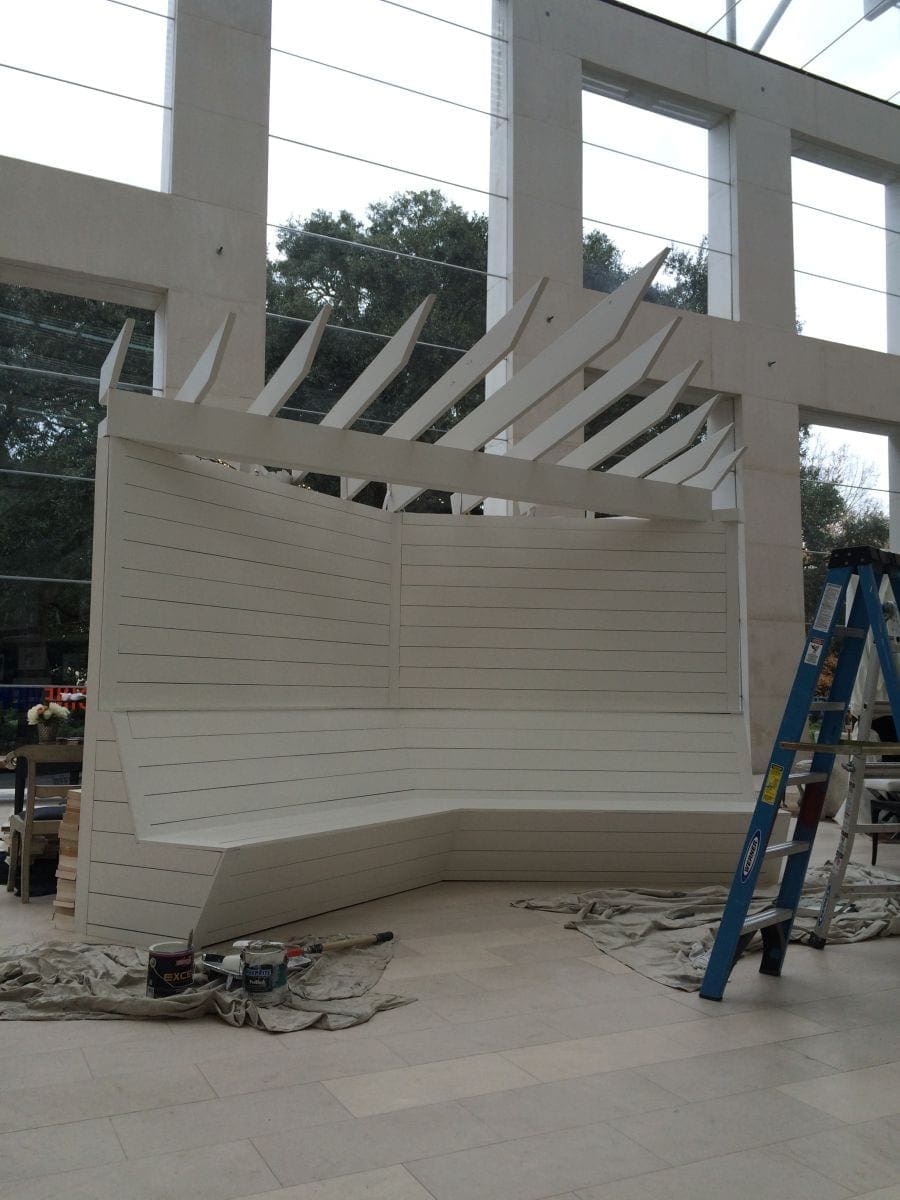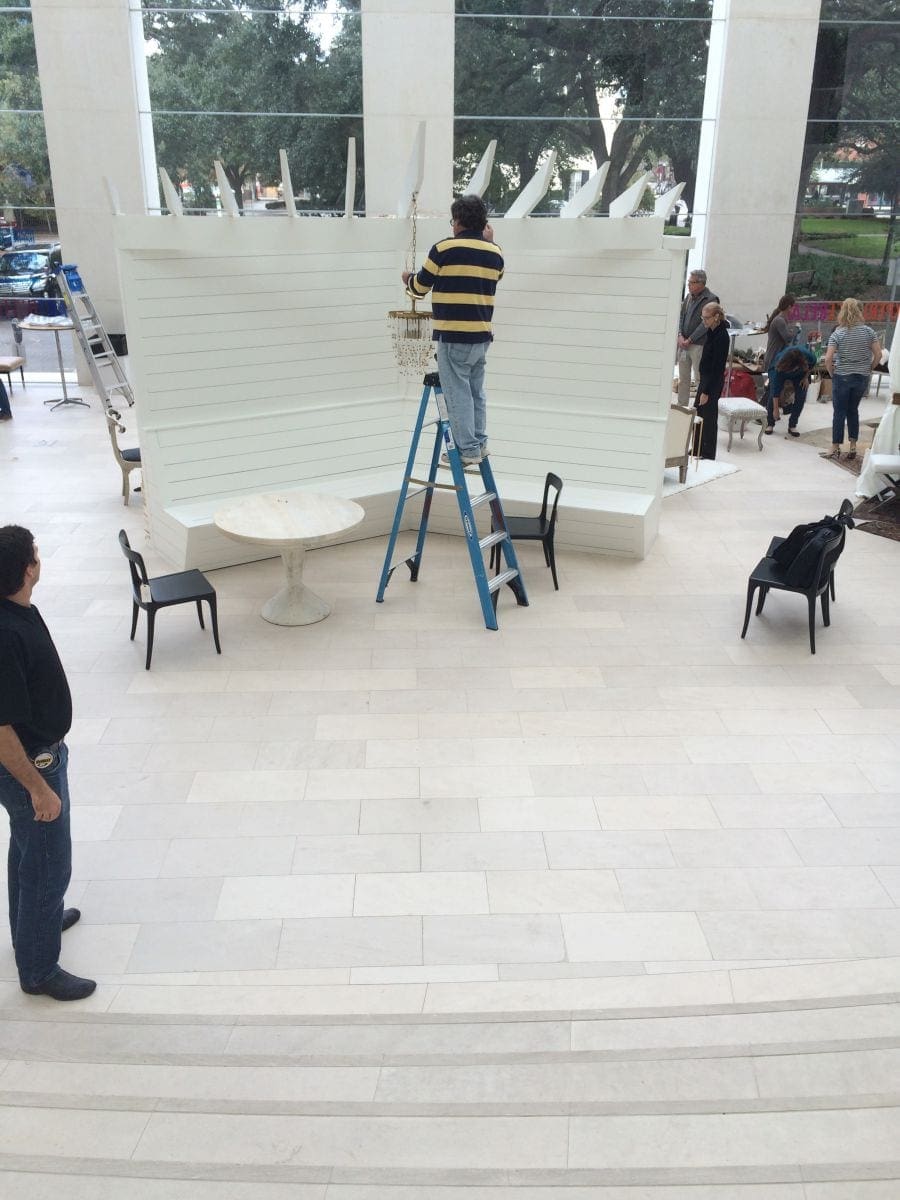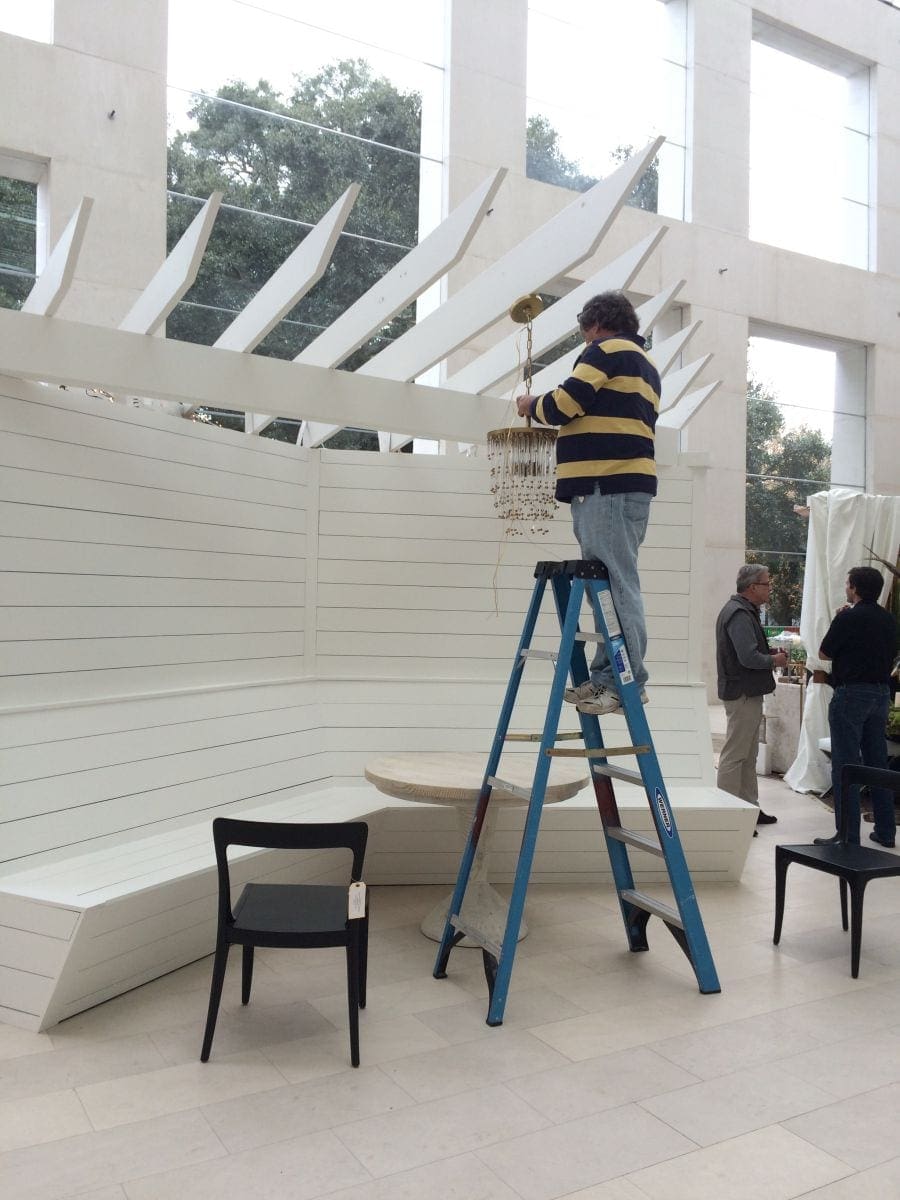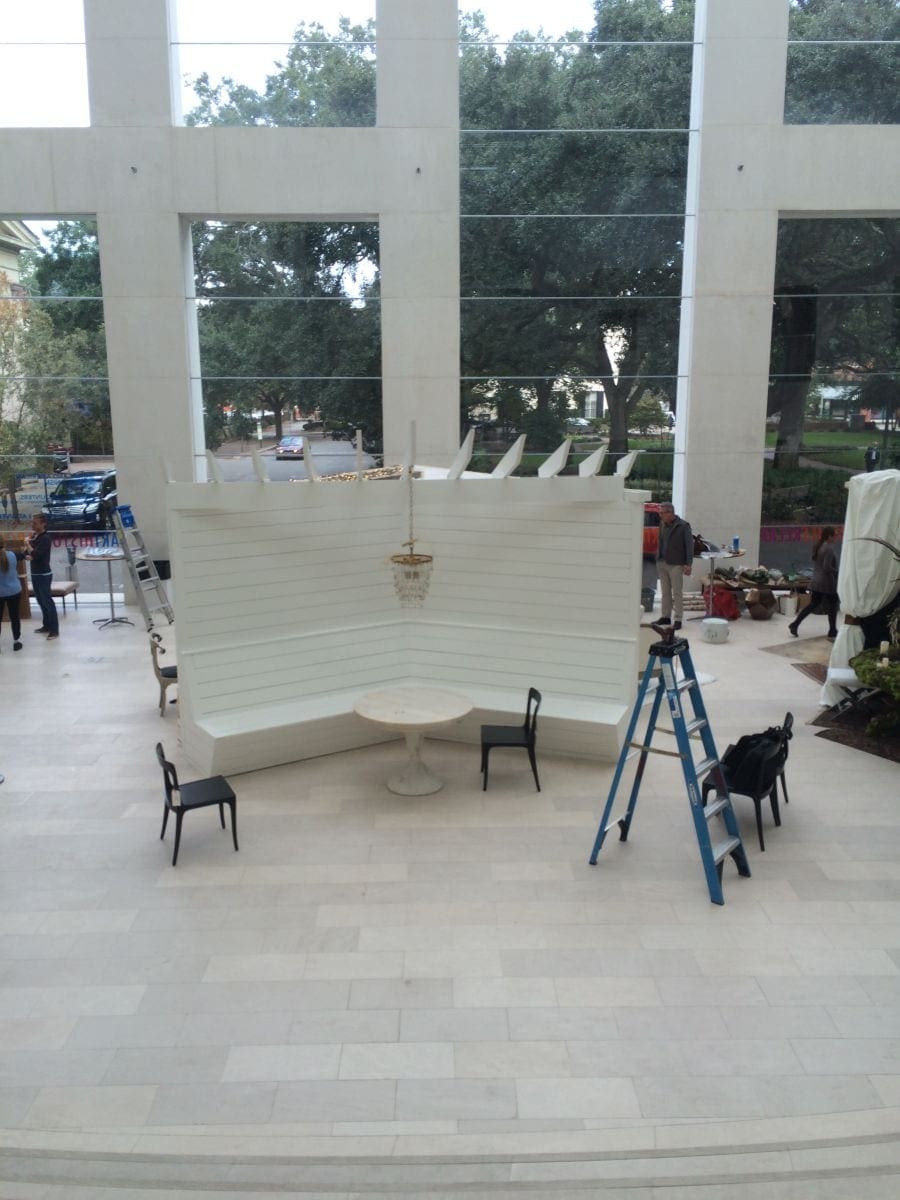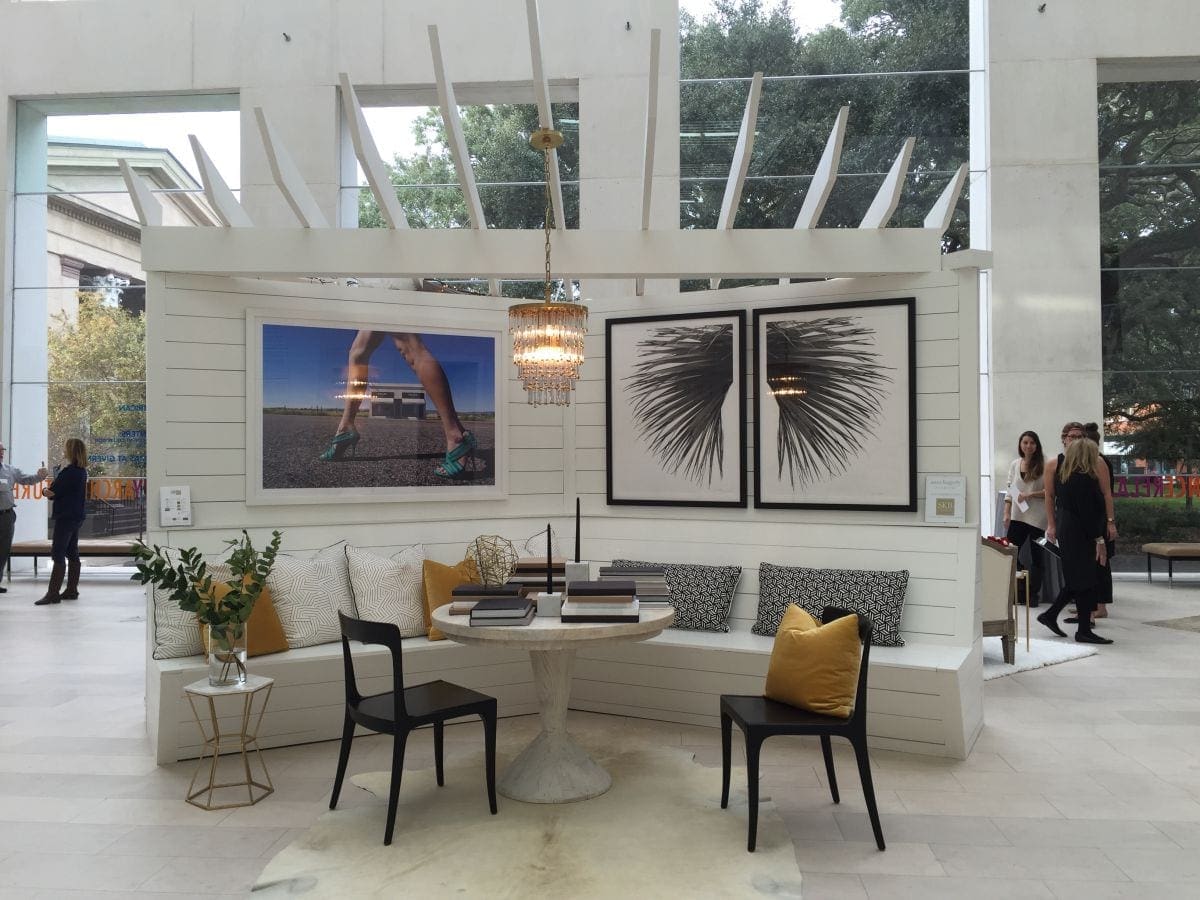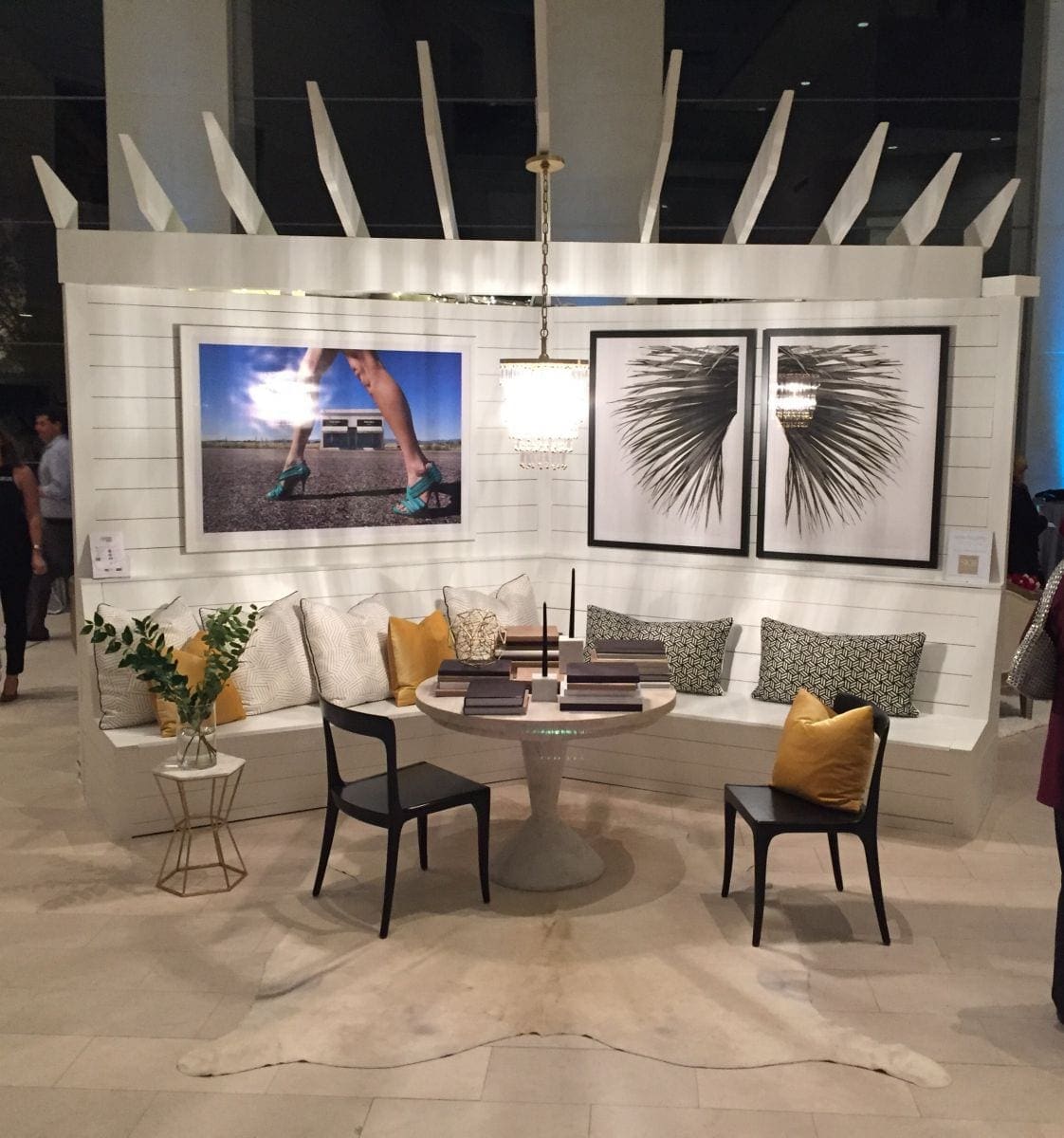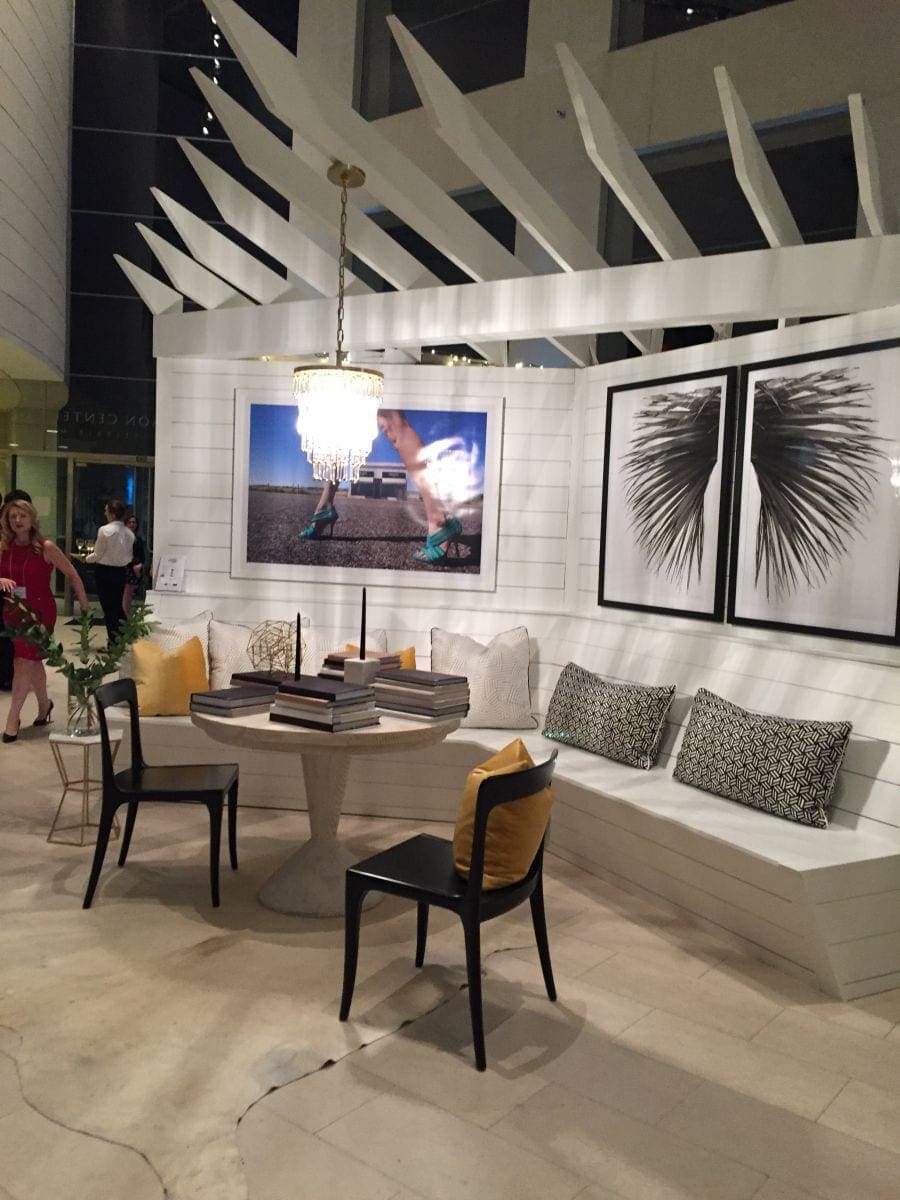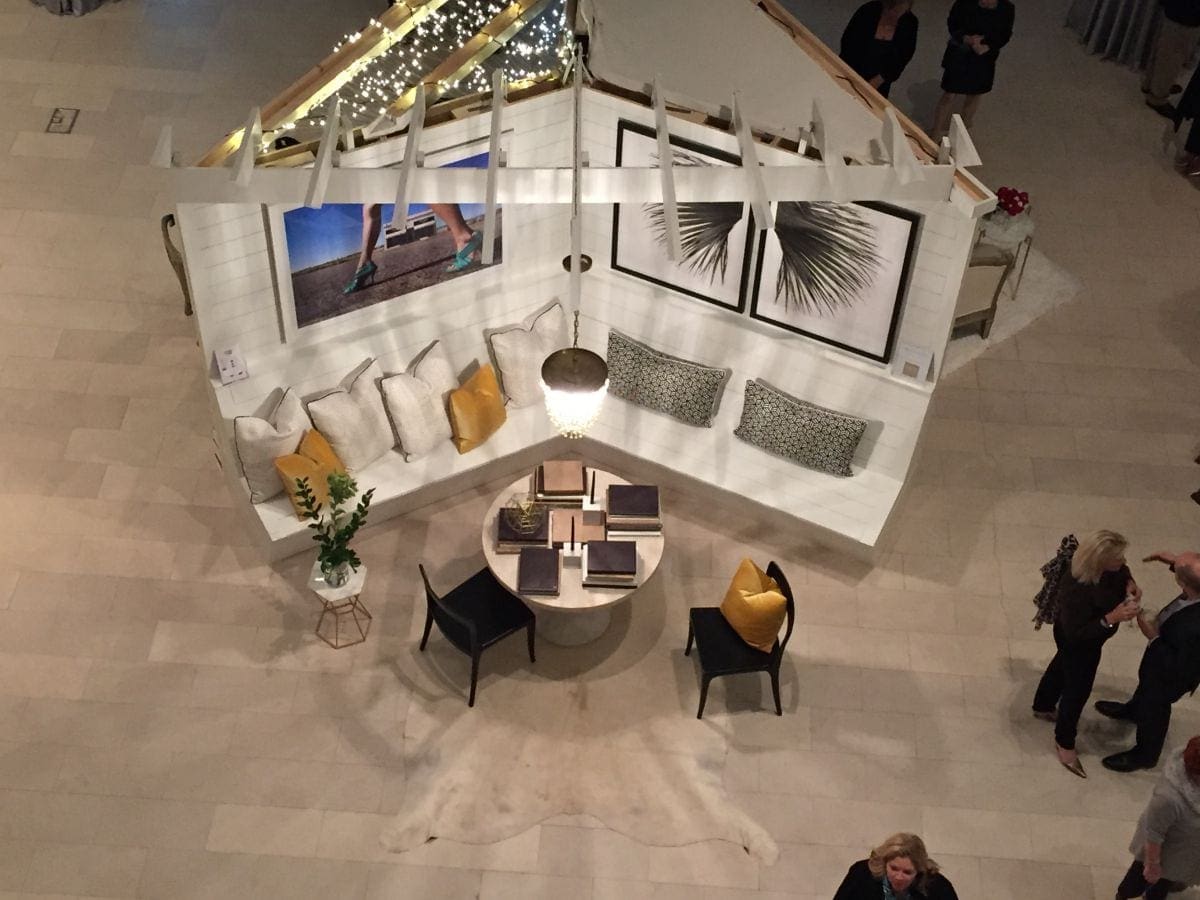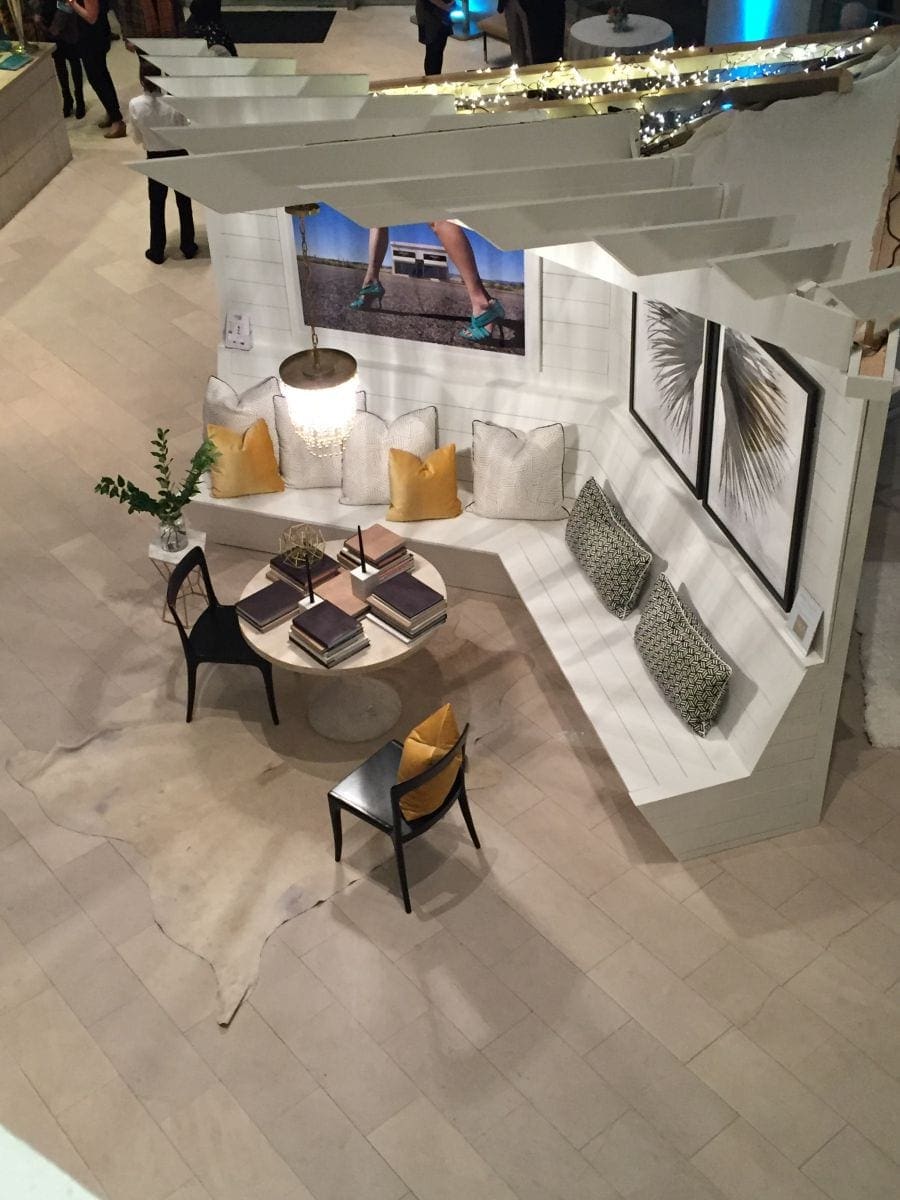 Special thanks to Guerry Lumbar for donating the building materials, Circa Lighting for donating the light fixture, and Savannah Window Fashions for making our custom pillows.